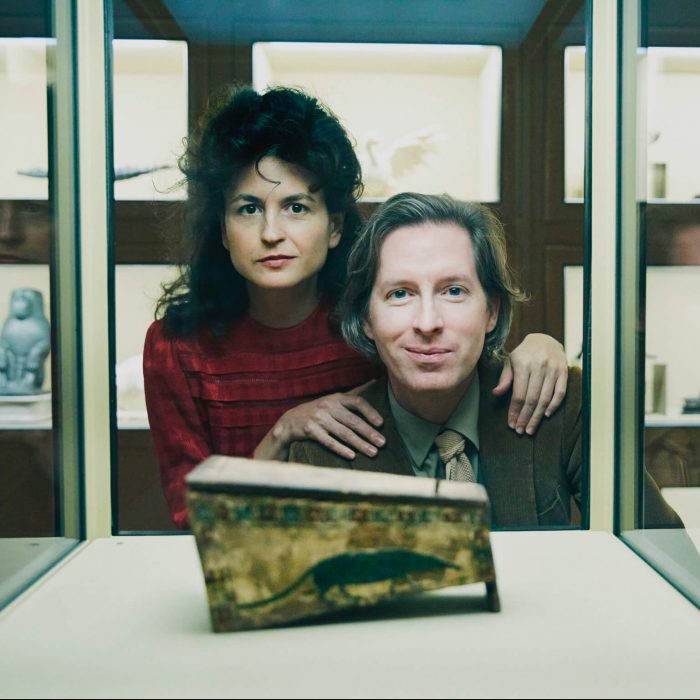 How to awake thousands of classic collection pieces from a deep classic slumber? Or rather: How to create FACTION at a museum? As we have already stated, FACTION comes up if rules are deviated, and subversion is welcomed. If the art world allows new creative forces to hack the museum.
Considering this recipe, the best thing that could come along is a classic museum inviting external creative forces to stage their classic artworks.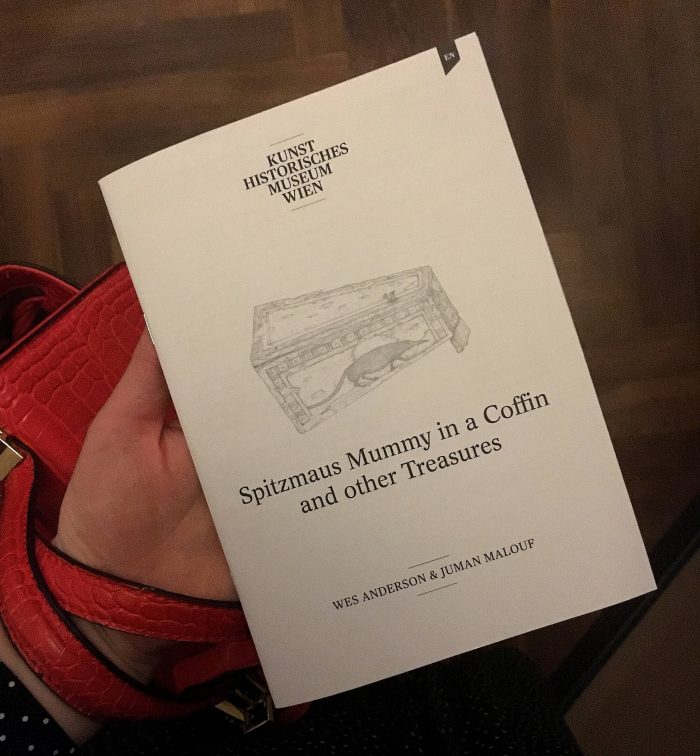 The Kunsthistorisches Museum in Vienna welcomes 'art hackers' on a regular base. This year it's iconic director Wes Anderson and the fabulous costume designer and illustrator Juman Malouf, who had the opportunity to stage an exhibition of the Museum's vast collections. After two years of research you can now discover a wonderful assemblage of about 400 paintings, drawings, figurines, sculptures and applied arts objects. Many of them have never ever been exhibited before.
What does an exhibition curated by a director and a designer look like? One thinks of OPTICAL decisions more than of anything else first.
And then that title! "Spitzmaus Mummy in a Coffin and other Treasures" creates CONFUSION and a tiny SMILE immediately. What the heck is a Spitzmaus? And what does a MOUSE coffin look like?!
So my curiosity was huge when walking through the exhibition halls for the first time!
Well, my expectation of an Anderson-ian film atmosphere full of pinks and greens was disappointed at first. The design and colors are the ones usually to be found at the Kunsthistorisches Museum. Dark red, brown, greige, and green tones were chosen for the halls. So at first glance there's no real Wes Anderson vibe.
But don't worry: A second glance does reveal the creative couple's artistic universe pretty well! Entering the exhibition you first find classic paintings, showing – let's call it – CURIOUSITIES. You see Renaissance portraits of the so-called "hairy people", a family that was well known because of their special looks. Next to those portraits you find two paintings, showing two people looking out of the window. Profane? Nope, rather unusual for their creation's times. One painting depicts a woman looking outside of the window from the inside of the room. The other shows the face of an old man from the outside of the house, he's in. Both works have something odd to them, cutting essential parts of the usually depicted motives (Gerhard Richter probably loves them!). And being exhibited one next to the other, a nice play of IN AND OUT, of GOING INSIDE AND OUTSIDE is created.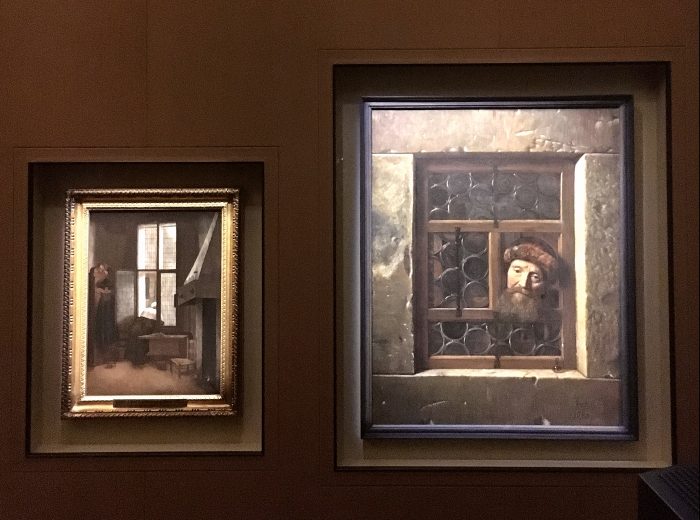 And there it is already: A wonderful hint on what is one of the red threads of Anderson's and Malouf's exhibition. Their curation debut is not only about the selected works, but about the creation of playful relations between them. Feels like a film scene made of two paintings. Feels like FACTION approaching!
Heading towards the exhibition's star object – Spitzmaus' coffin – you find yourself in the middle of a vast amount of objects of nature. The selected animal sculptures and paintings are arranged with a specific dramaturgical aim: A cat seems to be running away from three birds of prey. Next to this arrangement, another cat is looking for a prey herself, while a mouse is placed just underneath (swipe through the gallery for the views). And talking about a mouse: The display case in the center shows a little sarcophagus for a Spitzmaus, a shrew. A beautiful IRONY unrolls: While a mouse nowadays is considered a rodent in worst and a cute Disney figure in best case, in past Egyptian times shrews were adored and played an important role in religion, as this little sarcophagus proves.
Making a mouse the key visual of the exhibition is a wonderfully playful, modest and ironic statement. And simultaneously we are confronted with playful scenes surrounding the coffin imagined by the brand new curators again.
Simplicity is also key when you stroll through other parts of the exhibition: One shows green objects only (what a refreshing idea as a curatorial thread!). Another sticks to wooden objects from the collections. A simple idea, but not naive: The objetcs are put into thought provoking relations just as we've experienced it so far.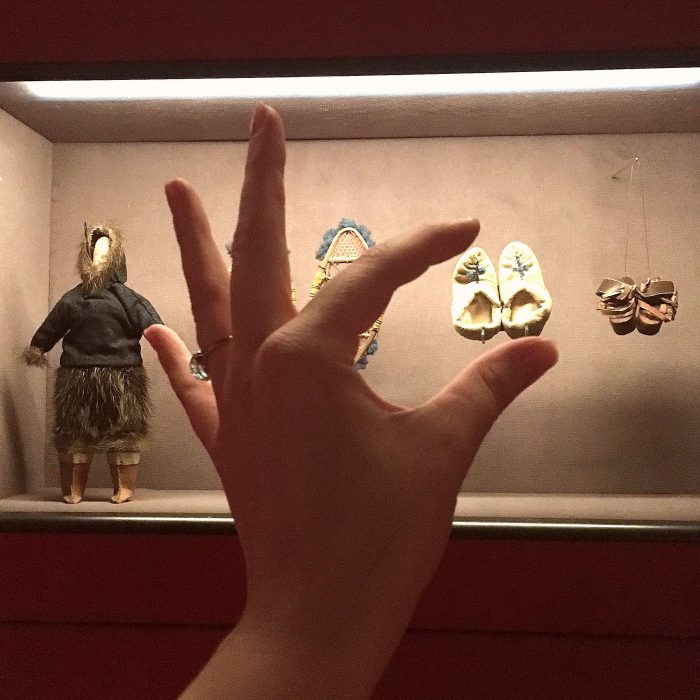 The next part of the exhibition provokes a rather uncanny feeling with numerous miniature objects. A scull, little weapons, many tiny busts as well as weird little portraits are presented. The whole room greatly incorporates the idea of a Wunderkammer in a nutshell. The latter being a leitmotiv of the exhibition hall's design: A super tiny room with super tiny objects.
Understand the MATRYOSCHKA
Another exhibition hall is dedicated to boxes and storage cases, something pretty unusual in museums. Normally you see the things protected by cases. You never see the matching packaging. But the exhibition wonderfully illustrates that a box can be a work of art itself.
After gazing at those many historical objects in wonder you turn around and see a huge display case, which seems to be totally empty! After searching and searching you discover, that the display case itself is a display item actually. Once more, the visitor finds himself confronted with a topic that becomes the exhibition's dramaturgy and vice versa. META ALERT deluxe!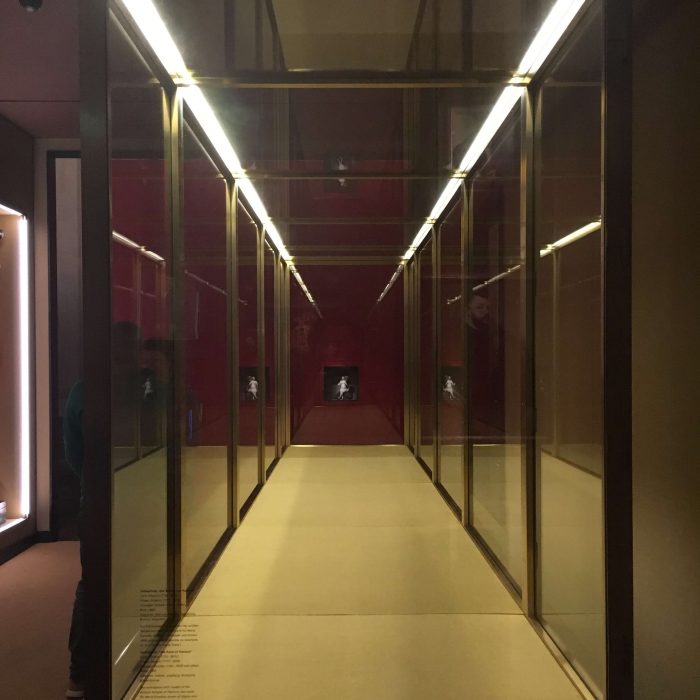 Now you see where I am heading to: "Spitzmaus Mummy in a Coffin and other Treasures" is a wonderfully curated exhibition! I could go on forever, telling you about more META GLORY and wonderful plays of IRONY, Anderson and Malouf have created at their curation debut! But, I'll let you discover yourself the magic of the Spitzmaus, her friends and their adventures at the Kunsthistorisches Museum.