On the intelligent use of digital possibilities as shown by the Pinakotheken in Munich
Oops! Just got up, opened my phone, scrolled through my social feeds and there it is: The disappointing insight, that one of my exhibition excursion goals of this spring / summer season just closed last week. That I was thinking for too long of finding the time, an exhibition date and an eventual babysitter. Sounds all familiar, doesn't it?
In my case it's #PinaCaravaggisti, a wonderful exhibition highlighting the work of Caravaggio, the huge influencer of his times and his followers' wonderful interpretations of the masters' aesthetic achievements.
Well, missing out on an exhibition might sound familiar, but there's a small but important difference in this case. The originals might soon travel to their home museums. But luckily something else stays behind: The Pinakotheken's wonderful VR project, conceived by the museum and Google Arts & Culture.
Critisizing VIRTUAL REALITY for museums
Does the topic of VR in museums ring any bells? To be honest, I've heard so many concepts, ideas and arguments considering the use of VR for exhibitions, that I have become a little fed up with it. Although I actually truly believe in the FACTION potential of the technique, I have neither seen a project, that has blown me away nor have I heard many positive voices considering that topic so far. So after some years I was fed up with the same pros and cons, being brought up again and again:
Hearing many people conjuring up the aura of the original. Listening to the many others fearing that people would no more go to a museum. Feeling the omnipresent fear of art educators of being replaced by the simulacrum of VR. And hearing the final killer argument, that VR projects cost too much with no other benefit to the exhibition than having organized a fancy VR project.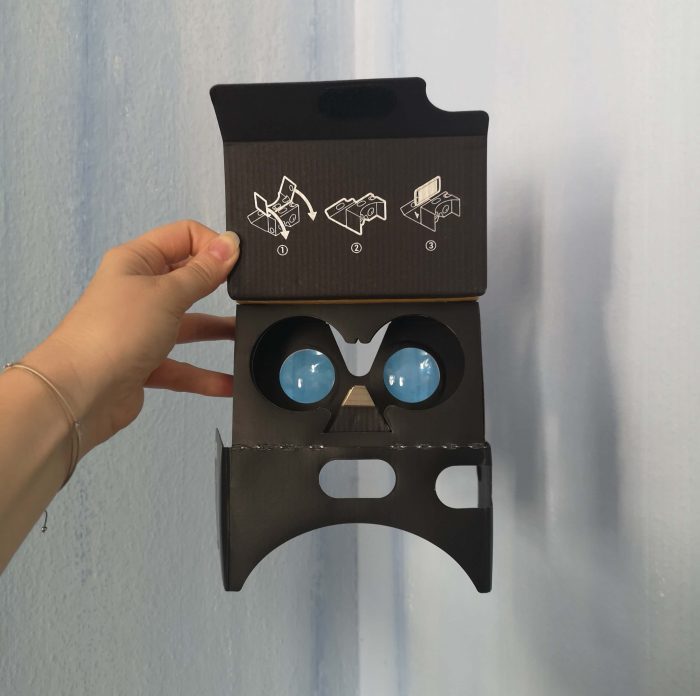 So despite VR's technological and educational potential, I was never really interested.
Well, until the other day, when I received a small package from the Pinakotheken in Munich with a letter from their press office (a historical moment: my very first letter as a blogger with a press sample!) accompanied by cardboard specs designed by the museum and Google Arts & Culture. Already the stylish design showed me, that someone put a good amount of money and time into #PinaDigital. So I decided to give it a try – and here are my thoughts!
Besides your mobile phone, you need the Google cardboard as well as the Google Arts App. Once you've found the Cardboard tour inside the app, you place your mobile phone into the cardboard and off it goes! Within ten seconds you find yourself in the middle of the exhibition, no matter where you are and what time it is.
Five different tours guide you through the rooms and topics of #PinaCaravaggisti with an audio voice, while you yourself are standing in the middle of one of the exhibition halls. My favorite is the tour, that is not accompanied by a narrator but by classical music, which was composed only for the exhibition (coming closer to my very personal conviction, that art needs to be brought to life by creative elements different to a good lightening and a neat audio guide). Finding yourself in the middle of the Pinakotheken's exhibition halls within seconds does something wonderful to you, I can assure you. This reality switch has something quite ENCHANTING: FACTION not only approaches you, it's rather the other way round! You slide into the exhibition within a glimpse.
WHEN & WHERE to use #PinaDigital
I tried it out in my morning coat and pin curls, at home having my first cup of coffee in the morning and was blown away. A wonderfully intelligent and comfy mind excursion while in the COZINESS of my living room.
Anyhow one question rises immediately: Is the visitor supposed to use the cardboard at the exhibition while in front of the paintings? Probably not. That would be a little over the top. Or rather absurd. And pretty arrogant towards the originals. Using #PinaDigital while being far away on the other hand provides you with an unseen APPETIZER and a tasty image TIDBIT, which might put a trip to Munich on your calendar. And if your calendar is too complicated (like it usually is for young moms…), the use of this digital tool is a very welcome, inspiring alternative, not bound to a place or a time.
On the AURA of technology
Coming back to the above mentioned critique on digital and VR concepts for museums, I just found almost all of my initial opinions confirmed when experiencing #PinaCaravaggisti with the Google cardboard.
The aura of the original? Of course! Never ever is an image of a painting (not even a Google picture containing tons of pixels!) going to be as enchanting as the real painting. But does it hurt the painting's worth and interest, if someone sees it at home? Nope.
Building BRIDGES & seizing technological opportunities
While I do love the aura of an original, I also adore a TECHNOLOGICAL GEM, which is certainly the case for Google's cardboard. So instead of dreaming of the uniqueness of the original, it's time to build new bridges bringing people to the artwork. It's time to stop being afraid of technological possibilities and start using the new opportunities for educational and/or marketing purposes. On a broad level – just like the digital team behind #PinaCaravaggisti did (the educational offer by the way spans everything from a 'classical' audio guide to the VR experience – so there's a broad range of tools offered to a nowadays broad range of visitors).
About the FEAR of losing money
I am pretty sure, that visitors will still pay their ticket, buy an audio guide, book a guided tour or buy the catalogue and souvenirs at the shop, no matter how much of the digital offer they have consumed before or after their visit.
So can we please stop being afraid of being replaced by the technological possibilities just like the Pinakotheken have done? And can we please start using digital tools for bringing people into a museum, tell them about art, entertain them and start a dialogue with the public just like the Pinakotheken have shown?