Currently I am thinking a lot about Beyonce's and Jay-Z's video "Apeshit", taking place at the magnificent Musée du Louvre in the middle of its art history splendor and stars!
What to think about the couple shooting their video in such an institution? What to think about art historians' theories of their (so-called) appropriation act as a black couple inside of this historically Western (and white) institution?
Mme Récamier REINTERPRETED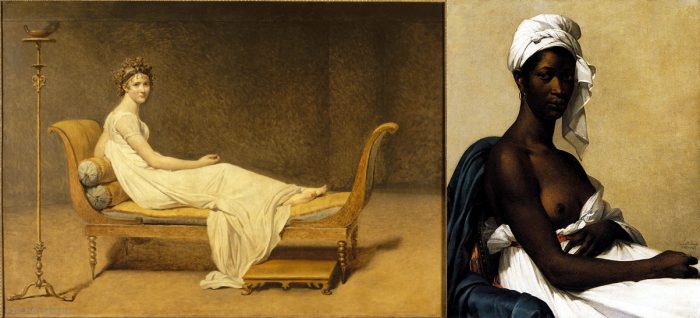 There are a lot of aspects worth a look when analyzing their video. Anyhow, I will stick to one perspective and two famous works: Jacques-Louis David's "Madame Récamier" & "Portrait d'une femme noire" by Marie-Guillemine Benoist. The latter shows a black female servant,  taking the classic pose of bourgeoise ladies, just like you see it in the fab portrait of Parisian socialite Mme Récamier on the lesft. Both portraits appear in the Carters' video, the latter with a strong performative update. Two black dancers – sitting in front of Mme Récamier – connect the two portraits by taking the poses of both ladies. Furthermore they wear nude colored bodywear & white turban-like headgear referencing Benoist's "femme noire". The stories of the paintings are thus reinterpreted by the video's performance.
I truly believe this to be a strong claim by Beyoncé, stating that black women just like herself are taking the 'thrones' of contemporary society. Later on in the video, she even goes further. By standing – dressed in nude herself – in front of the Venus de Milo, she incorporates the symbol of contemporary beauty standard, with THE beauty idol of the Western (white) world behind her.
Hail to Queen Bey: These are only two examples of the fine art history compositions of "Apeshit". A video, that first might appear as pure & simple megalomania, but proves to be pretty intelligent at the same time. Actually all of the works on display during the video are upgraded by performative scenes and follow a similar art history pace and contemporary message.
And yes, one more, rather simple but important conclusion: By shooting at the Louvre, Beyoncé & Jay-Z not only claim to be at the peak of high culture, art & society. Their video democratizes the museum for a huge mass of non-museum-goers as well, which is not only great in itself but also glorious Marketing at the same time.
All in all, "Apeshit" is a fantastic example of pop culture working intelligently with art history – so for me it's just pure FACTION!