Walking through the Tate Britain not only offers vast collections of British Art but also reveals two secret ingredients of many of the portrayed: Style and Charisma! So come with me for a walk and enjoy my favorite six masterpieces portraying intelligent Glamour!
"Always a poodle, only a poodle! That, and three strands of pearls! Together they are absolutely the essential things in life."
Amongst the many paintings in the many halls of the Tate Britain there is ONE portrait, that is particularly capturing: The Duchess of Argyll painted by Gerald Brockhurst. The paintings' cool symmetry, its harsh color contrasts as well as the duchess' confident glance are the exciting elements of this masterpiece.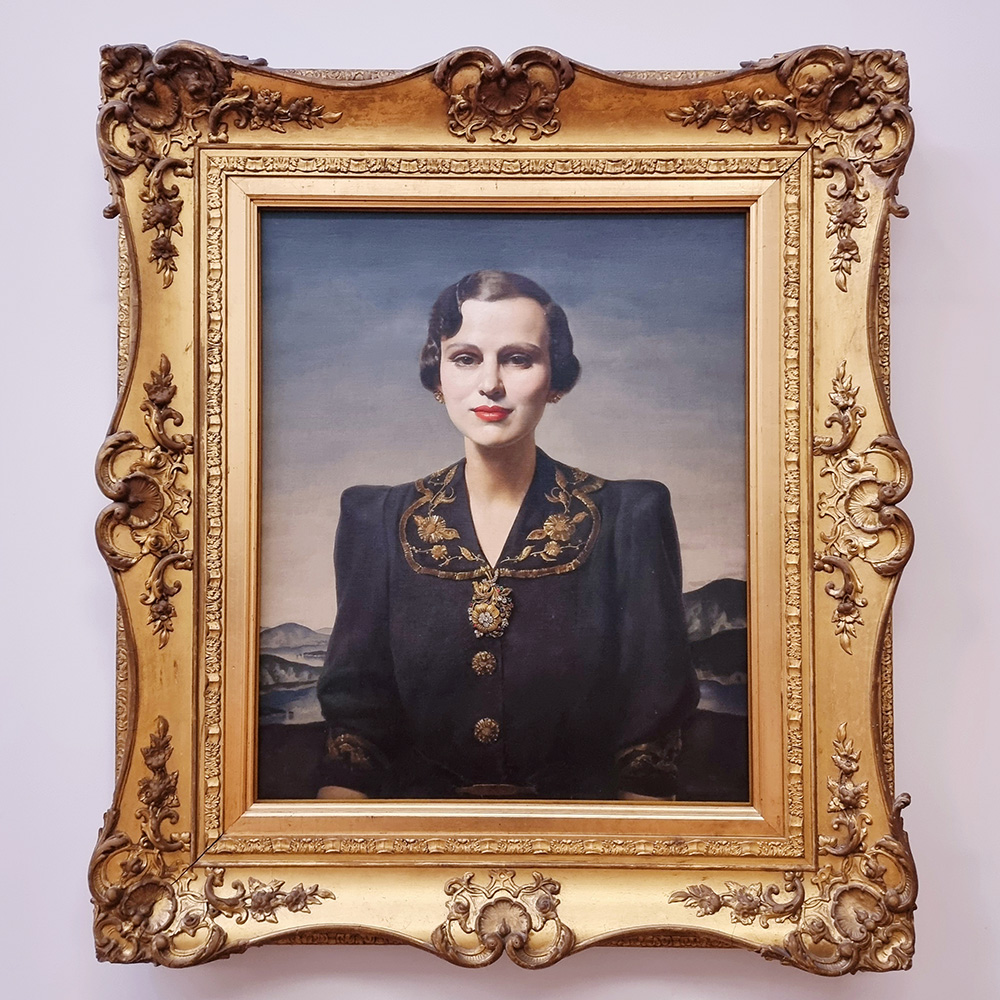 But it's also the specific style of the duchess, that attracts the attention: She wears a beautifully embroidered jacket with gold flowery elements and a quite impressing brooch. Her hair is delicately styled into sleek 20s-style waves – her red lips form a somehow cheeky, self-confident and even a little provocative smile, looking directly at the viewer. The duchess' face is beautifully sculpted, shows harsh contrasts and shadows and looks somewhat similar to the adventurous Scottish landscape in the background. But who was this young lady?
Margaret Campbell, born Ethel Margaret Whigham, was the daughter of the Scottish self-made millionaires. Her family was not really noble but very well connected and therefore rose to social fame quickly. Margaret's beauty was much admired – and so were the many, pretty spicy episodes of her life. In 1930 Margaret was presented at court and became the debutante of the year (watch out, dear Bridgerton fans!). In 1933 – two years after the portrait was made – she married the American businessman Charles Francis Sweeny. Her taste and glamour were already at their peak during these days – the transportation of the wedding dress supposedly even blocked the traffic in London for hours – since everybody wanted to see it.
In 1951 Margaret married once again – this time the Duke of Argyll, with whom she had a tumultuous marriage, which ended in 1963 with a very public scandal. Throughout the divorce the duke presented some very spicy photos of the (naked) duchess in incriminating poses and compiled a list of 88 men, with whom the Duchess supposedly was unfaithful with to him. Now what we have here is a VERY adventurous biography of a VERY interesting woman, which was by the way the topic of "A very British Scandal", a film with Claire Foy (and this one's for you, dear the-Crown-fans!). Well, no matter what her private life was like, Margaret Campbell was one of Britain's most stylish and most interesting women of the 20th century, this is clear.
A glamorous IMPRESSIONIST: John Singer Sargent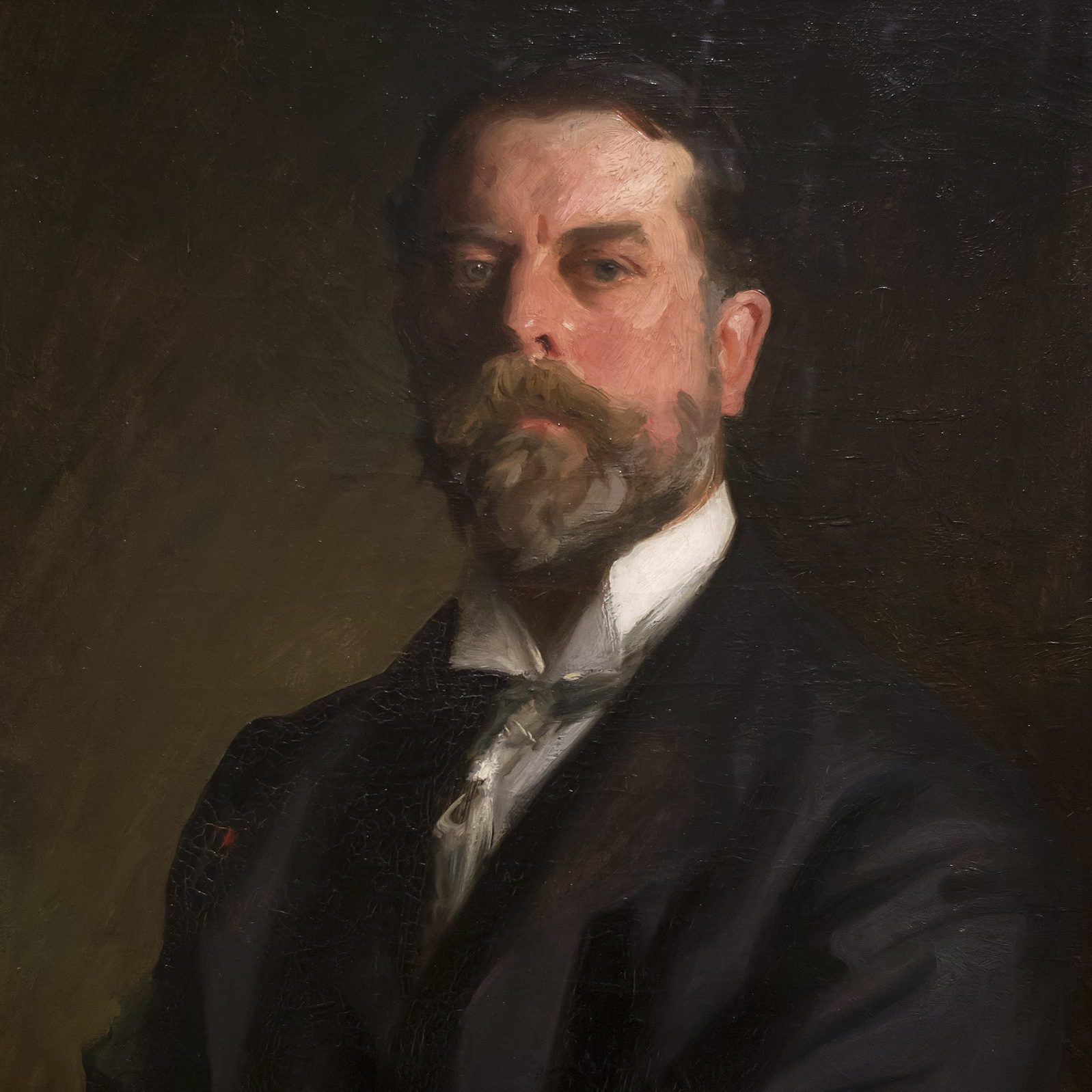 John Singer Sargent is one of these super famous painters, everyone seems to have seen a lot of paintings of. And let me tell you one thing: It is likely to be true – Sargent has painted over 900 oil portraits, which are nowadays spread all over the world. He was of American origin but was born, raised and educated in Europe. As a young painter Sargent quickly developed his own style between Realism and Impressionism and was very talented in finding clients and getting commissions. His portraits were realistic, but also dynamic and glamorous. Sargent hardly ever portrayed melancholia, but rather opted for vibrant charisma, joy and glamour, as even Andy Warhol once stated in a conversation with Sargent expert Trevor Fairbrother:
"Sargent made everybody look glamorous. Taller. Thinner. But they all have mood, every one of them has a different mood."(1)
In his very own approach to Impressionism Sargent developed a specifically loose brushstroke, which was often criticized as "painterly" and thus dull and superficial. He preferred to concentrate on colors, shades and light and thus often captured a sort of fleeting, very personal moment on the canvas.
Sargent was very welcome amongst the high society and especially the uprising middle class and Bourgeosie. His fine manners, his erudition as well as his social skills helped him charm his clientele und have unmatched success throughout many years. Speaking of the new Bourgeoisie we of course have to talk about the Wertheimers! Asher Wertheimer, a member of a family of middle-class British Jews, was a very important art dealer and helped Sargent throughout his career. But Wertheimer not only helped find commissions for the painter, he himself commissioned Sargent to paint twelve portraits of his family. At that time, Sargent was at the peak of his career, having his studio in the trendy area of Tite Street in Chelsea.
A Duo INFERNALE: Ena & Betty Wertheimer
Sargent's very famous double portrait shows Asher Wertheimer's eldest daughters, Helena (called "Ena") and Elizabeth (called "Betty"). The painter was drawn to the charm of the Wertheimer family and specifically liked the wit and energy of Ena (right). The young lady looks at us with a rather provocative but also cheeky face expression – her hand seemingly underlines her saying: "And who are you?". Betty on the other hand looks rather timidly and dreamily at us but not without confidence.
But it's not only the different characters that Sargent masterfully depicts here. He also focuses on the wonderful fabrics of the dresses: Ena is wearing a shiny beige damask gown while Betty's dress is made of a deep red velvet. The spontaneity of both – the depiction of the faces as well as the textiles – is wonderfully fresh and shows with what ease Sargent worked.
And one more detail: Take a look at how the painter 'cut' the silhuettes and left out the lower ends of the dresses and the floor. This seemingly simple decision shows how his style had already 'digested' the ideas of Impressionism, showing us a kind of 'snapshot-like' view of the two ladies. One can't help but immediately think of Degas and his similarly 'cut-out' depictions of dancers.
Hylda's GRAND MANNER Portrait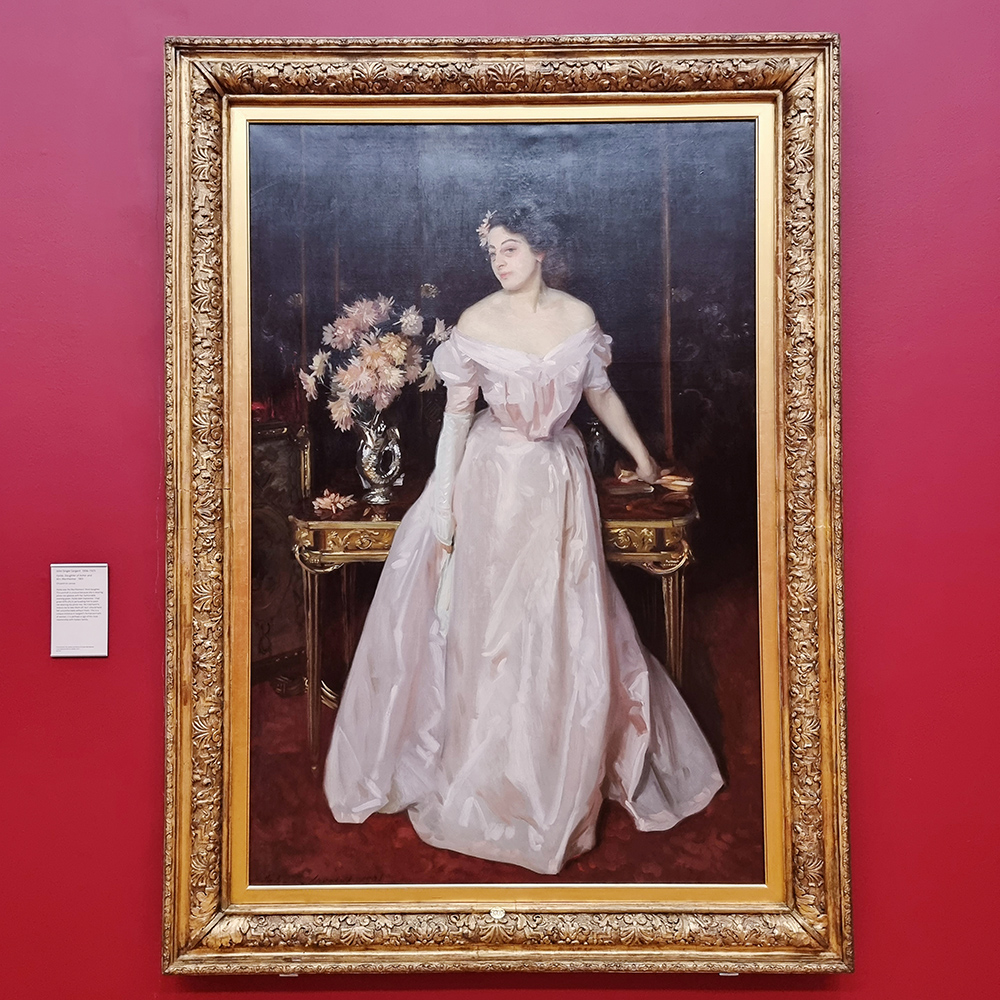 Hylda was the third daughter of the Asher Wertheimer and his wife Flora. Her portrait stands in the grand tradition of the old masters: Sargent painting shows a delightful depiction of textures such as the silk of her pink dress, which is parallelized in the pink petals of the flowers. Sargent also made sure to illustrate the delicate gold decorations of the table as well as the flashy red of the velvet carpet floor. This kind of portrait with its will to show how noble the young lady was dressed and how glamorous 'her' interiors were, had of course very important functions: To not only show the social status of the depicted but also to grow this status. It was supposed to create this status simultaneously. Of course Sargent's fame as THE portraitist of the noble society helped too when it comes to raising the status of the Wertheimers.
Talking about social status we HAVE to add one thing: Look at the "pince-nez", located on the nose of Hylda. While she wears it with pride Sargent seemingly tried to convince her not to wear it while posing.(2) But obviously the young lady was pretty keen on to look well-read (rather than 'only' beautiful) and thus underlined her own values, which is – needless to say – incredibly cool.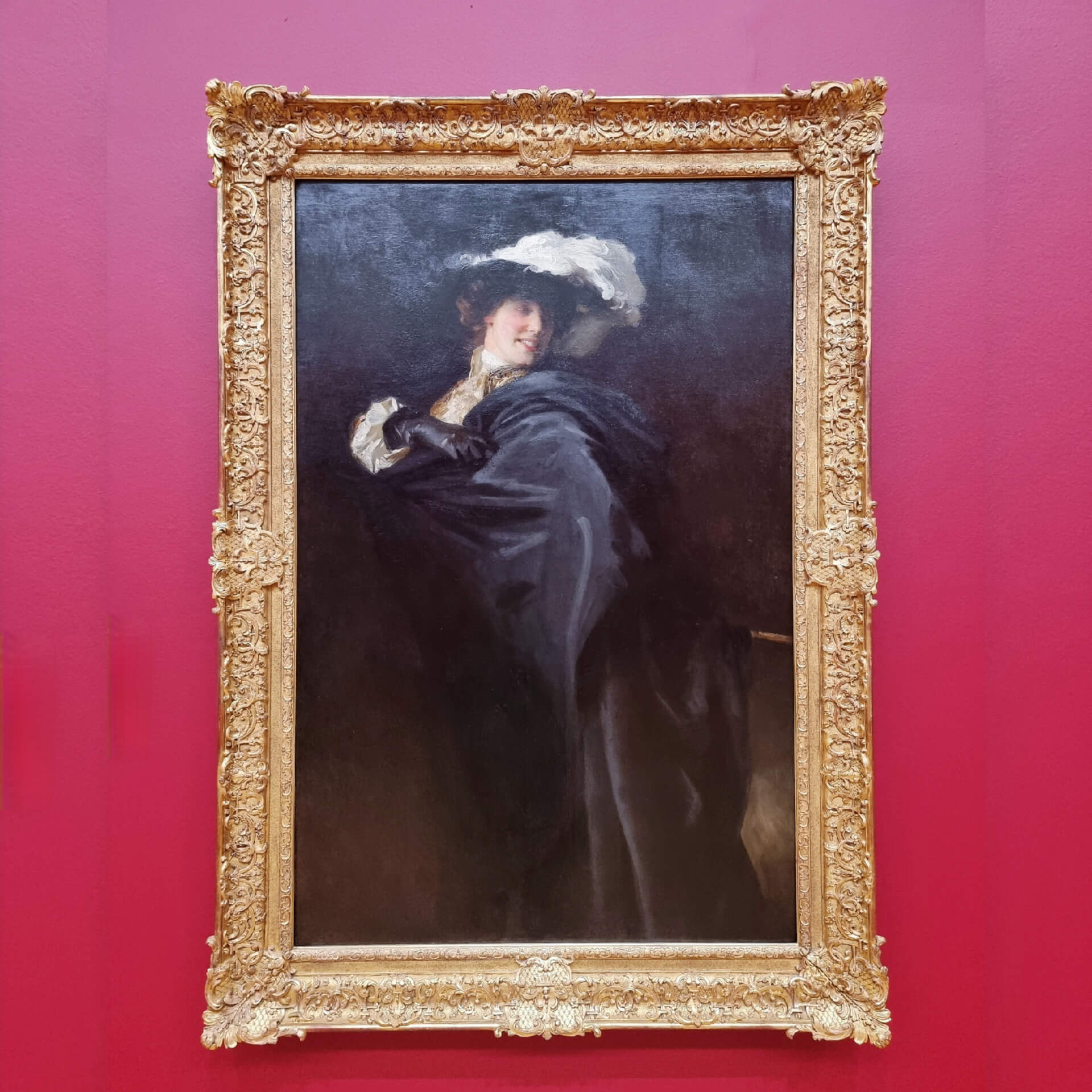 One more time we see the favorite of Sargent: Ena Wertheimer! Here she is joyfully posing in a long, black coat for a huge, actually larger-than-life portrait. But "posing" is not the right word, she is actually seemingly moving on the painting – she's swinging somehow just as is her cape. Her face expression is positively excited – her vivid charisma one more time is more than visible. Her clothes are rather unconventional for a woman at the turn of the century: A closer look reveals the clothes of members of the Order of the Garter of the British monarchy, where during these days only male members were allowed. So what we see here is another pretty snapshot of the self-confidence of the Wertheimer daughters.
The FABULOUS Mrs. Adèle Meyer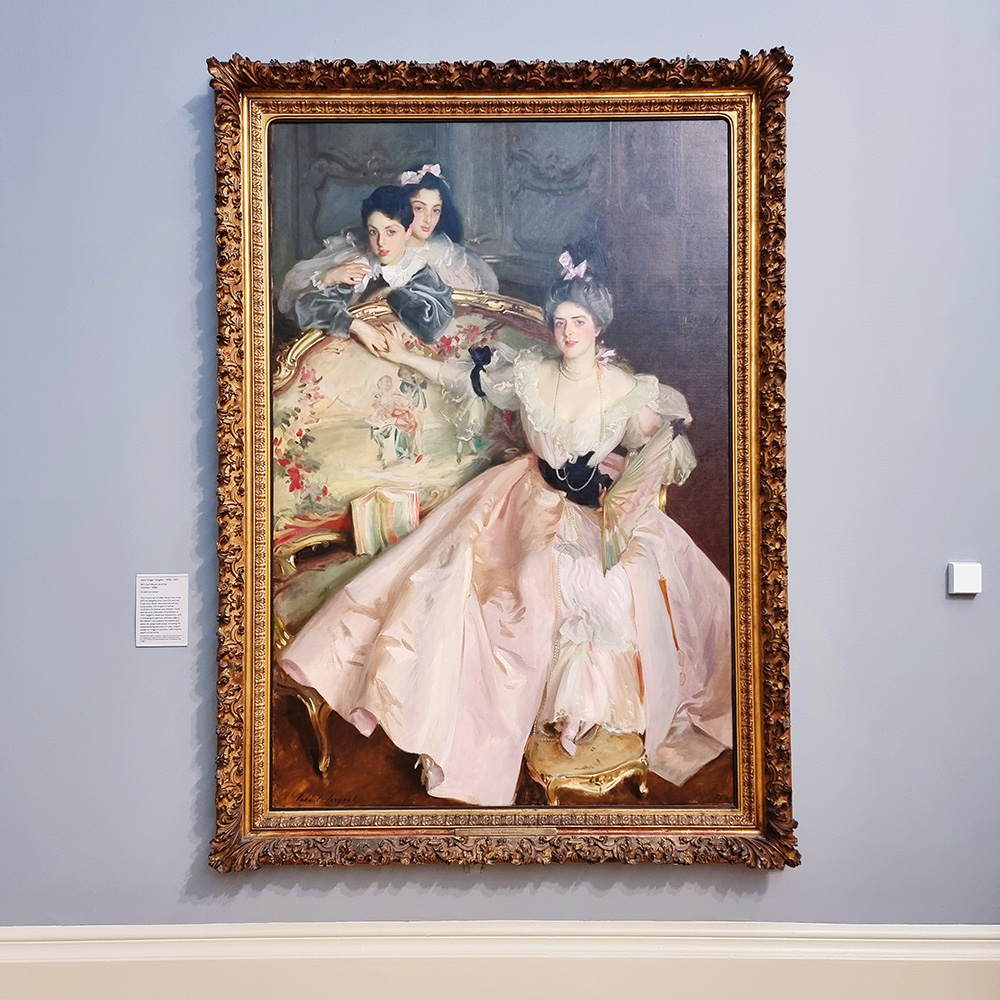 I immediately was drawn to this group portrait of Sargent! The delightful depiction of the lavish silk dress of Mrs. Meyer instantly attracted my attention: Its satin skirt, organdy ruffles as well as the velvet details are just breathtaking! But it's not only the pinks – for me it's all about their contrast to the black details of the dress, that add a Chanel-esque charm to the style of the painting. Then add the sharp fan, she holds, her little shoe, the loose pearls and the bows in her hair – everything looks fantastic.
And as soon as one dives into the biography of Mrs. Meyer it even gets better: Adèle Meyer (born Levis), was not only a British philanthropist and society hostess but an active member of the women's suffrage movement all while being friends with Oscar Wilde and Marcel Proust. The painting not only created a sensation at London's 1897 Royal Academy Summer Exhibition but ennobled the portrayed: Sargent created a symbol of abundance and wealth reflecting the status of Adèle Meyer in society.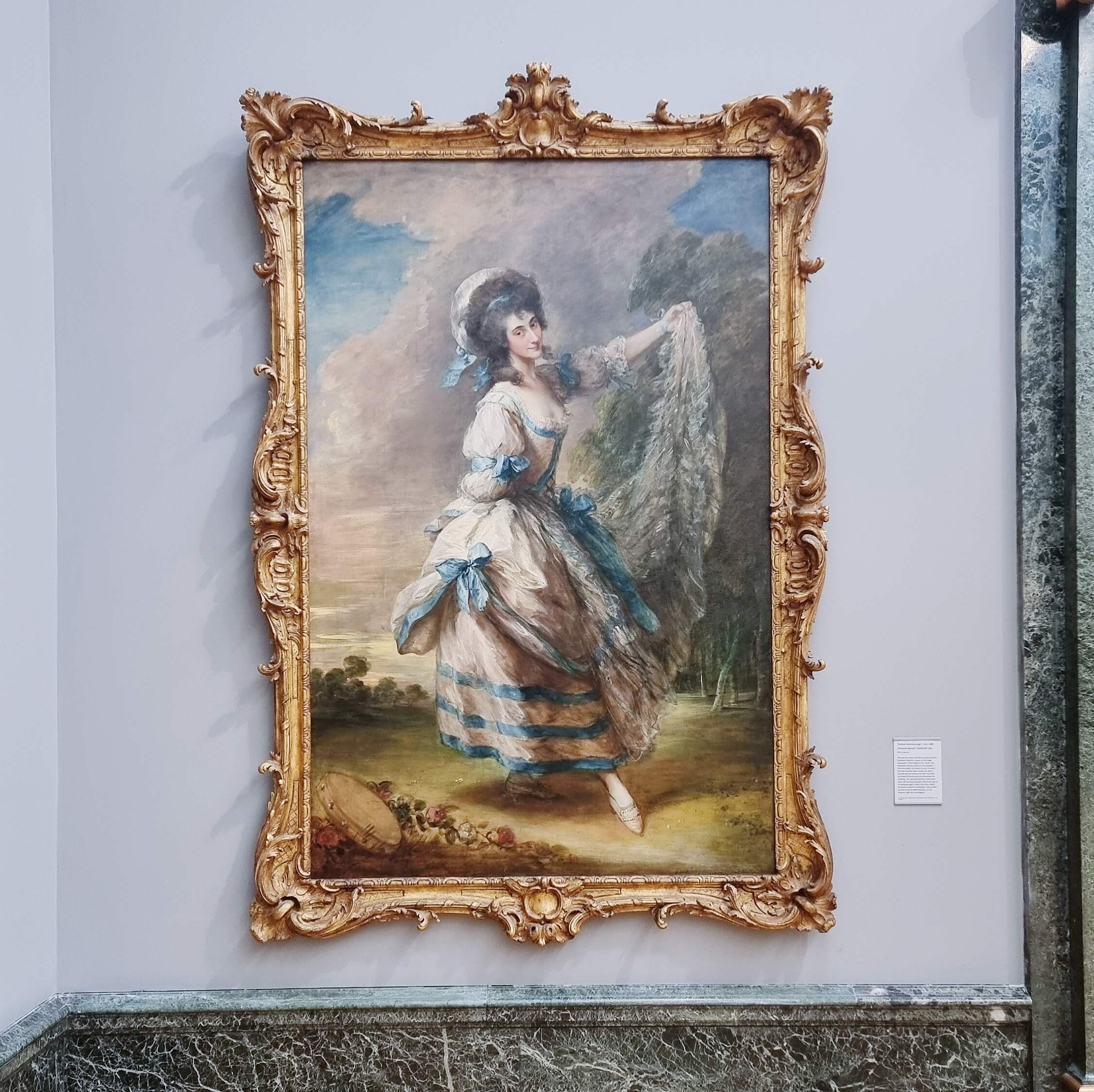 It is the blue ribbons this time that attracted my attention – I admit! A young lady is depicted here, dressed in a white, very soft and fluffly dress, swinging a white veil with her left hand. Blue ribbons and details flank the skirt as well as the corset and the sleeves. Her glance is friendly as well as a little cheeky – she could be thinking: "I know you know a secret…"
A look at the feet and shoes reveals her identity: This subtle portrait by Gainsborough shows Giovanna Baccelli, an acclaimed Venetian ballerina. Baccelli rose to high society via her relationship with John Sackville, the 3rd duke of Dorset, whose mistress she was for several years. He commissioned Gainsborough, Joshua Reynolds and others to paint her. The couple lived a glamorous life and was even part of the circle around Marie Antoinette.
I hope you enjoyed my favorite six masterpieces portraying intelligent glamour at the Tate Britain! I certainly will search for the biographies of the fabulous protagonists of my article - as my research so far has been just the beginning of my discoveries!