No one needs to be told that the world has been less glamorous since 2020. So here are 7 glam ideas to brighten up your DAILY LIFE!
Since March 2020, everything seems the same: DAYS are hardly different from NIGHTS. The office has moved home, parties have moved – if they exist at all often – to Zoom. A depressing side effect: Magic and glamour seem to be on STANDBY – there are hardly any occasions to style yourself. And not only that: the motivation to put on anything at all other than a pair of JOGGING PANT is now hardly in sight. Karl Lagerfeld is sorely missed by all of us – but in (post-) oandemic times, one can only be glad that he has been spared THAT. The question is: How to get magic and style back, when Viennese salons, Parisian museums or Italian dolce vita still seem asleep? The answer: DO IT YOURSELF!
Here come 7 glam ideas to give the (post-)pandemic EVERYDAY a much desired breeze of Glamour & Art – briefly FACTION.
Leave your Jogging pants – start with LOUNGEWEAR!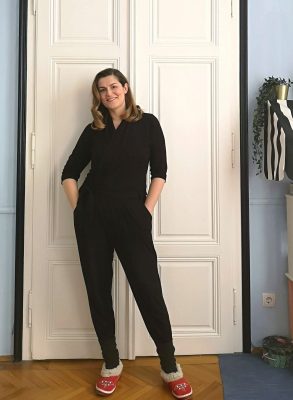 My daring thesis: If you walk every day in your sweatpants, you can't feel glamorous at all. One day, one weekend or one vacation is relaxing – a whole year in sweatpants is depressing. Getting dressed is such an important aspect from my perspective when it comes to self-confidence – when it comes to ENERGY, to CREATIVITY and POWER. I just feel different once the pajamas are off and a real outfit is on. I sit down at my desk differently, approach the to-dos of the day differently.
And it's not about sitting in the apartment in a complete office outfit. It's about spending the day as glamorous but also as comfortable as possible – which brings us to the topic of LOUNGEWEAR. Whether it's a knitted dress, jersey overalls or a cashmere outfit – there really are now enough chic alternatives to sweatpants. And then there is of course the vintage variant: the HOUSEDRESS. Here there is truly enough old and also new, which frau can get and carry out on Zoom.
Whatever the days currently bring – or do not bring – one thing is sure to come: The BLUE HOUR. Years ago I looked for it every day in Paris. And no matter how exhausting the days and the Parisians were – the blue hour has always ENCHANTED me. From my three years there, there are also most blue photos in my photo archive. Also the seasons and the passing of time could be followed more romantically – even if the weeks and months flew by. The blue hour was a kind of anchor, a kind of TIMELESS TIME to pause for a moment. Of course, this all sounds a bit pathetic – but let's be honest: Who can't use a little PATHOS and ROMANTIC in our Zoom, Billa and Amazon world? So come on! Put a date in your Outlook calendar right now – you're sure to see the blue hour around 5 p.m.!
Matching the above-mentioned glam loungewear comes the next recommendation: make-up & especially lipstick! Once I put make-up on I immediately feel better: The day can come – the style weapons are prepared. And let's be honest: The lipstick has completely fallen behind in times of the mouth-nose protection – at home, however, he can exist in all safety!
Leave Netflix – Love the CLASSICS!
Yes, fresh Netflix productions offer us plenty of ways to spend our evenings. Rarely, however, are new productions as enchanting as old movies are. So go in search of old classics, or artsy streaming alternatives. I often find the former on dailymotion.com or else in the good old Wiener Städtische Bücherei. And the real movie classics that have grown on me, I buy old school on DVD – everything else is too ephemeral for those films that are true life movies for me anyway. What I will also subscribe to soon is MUBI, the online streaming platform for artsy films.*
When it comes to Vintage styling, old techniques are the game changers for me! Make-up, lipstick and elegant clothes are the basics – pin curls on the other hand are the ingredient that really take you back in time! Here comes the quick tutorial:
Hand on heart: When was the last time you had a glamorous book in your hand? I, for one, have criminally neglected literature! Even though I read a lot online, the feeling of holding a real book in my hand is really something else. My resolution for 2022 (which I'm masterfully implementing so far – surprisingly!): 100 pages of literature per month. And let me tell you: it works. Once started, there's always fifteen minutes in the evening to dive into a story. By the way, a game changer for me was: What is not exciting after 50 pages, I give away or sell. Unthinkable in the past! I always thought: What I set out to do, I'll do it. In the end, I had 10 books on my nightstand that didn't interest me at all. Conclusion: Dive in but also give it away if it doesn't inspire. By the way, I'm currently reading Marina Abramovic's biography – and have "managed" 330 pages in a month.
The art museum has always been a place of immersion for me. A place that puts you in a completely different state of mind. Additional tip: Why not go to a museum or exhibition that you usually don't visit? I was recently in the Technical Museum in Vienna – and it was really refreshingly cool (by the way, my daughter M thought so too).
As always in life, it all comes down to your own will. A glamorous life doesn't usually just fall into your lap. But you can easily conjure it up for yourself - hope you enjoyed my 7 glam ideas!