Elfie Semotan at the KUNST HAUS WIEN – what a pleasant combination! The Museum Hundertwasser is always good for a surprise – a large retrospective of Semotan's work is the latest coup. On the occasion of the photographer's 80th birthday, the museum is showing 150 glamorous photographs from around six decades of her work.
From VIENNA and PARIS to NEW YORK
Vienna is not exactly a hot-spot of internationally successful careers in fashion. Of course, there are a few glamorous exceptions. But these confirm the rule. And Elfie Semotan is one such glamorous exception: young and penniless, she went to Paris to initially work as a successful model. But she quickly changed fronts and made a name for herself as a photographer. Her campaigns for Vogue, I-D, Elle or the New Yorker quickly made her famous.
Writing about FASHION PHOTOGRAPHY
Writing about (fashion) photography is not easy: we all immediately recognize a picture by Herb Ritts or Jürgen Teller. But why actually? Well, writing about a photographic style is not easy. It is even much more difficult than writing about painting in my opinion.
It is often said that Elfie Semotan's photographs focus on the personality of the person portrayed. They would not stick so much to the representation of fashion or its advertising effectiveness. Rather, Elfie Semotan is interested in the character of the portrayed.
Photography that leaves its BORDERS
Well, these sentences say a lot and somehow also little. And even if I can in principle only fully agree with what has been said, I must say: That is not what makes her pictures unique for me. For me, it's not about familiar perspectives & questions – rather about dancing out of line. About crossing borders. About FACTION. And there is truly enough of that in Elfie Semotan's work at KUNST HAUS WIEN.
A walk through the exhibition is first and foremost a feast for the eyes. One rarely looks at the titles, since one is fascinated by the visual anyway. But some of the fashion photographs are astonishing because of their props and poses, so that one's gaze does fall on the title. It is the portraits that are not directly titled by "o.T." but are very well described by the addition "Pre-Raphaelites". The Pre-Raphaelites were a group of painters who made a name for themselves in the mid-19th century with Renaissance-inspired paintings. Their portraits of women were characterized by a certain mystical nostalgia, classical-literary models and – let's say – emotionally charged poetry.
And this is exactly what one finds in Elfie Semotan's photos: props of literary-art historical significance such as fruits, poetically draped (mourning) veils, and a mood that borders on emotional exaltation. Moreover, a spatula functions as a direct reference to painting as inspiration. Yes, photography here is more than advertising for clothes. And yes, the person depicted here is not just a model. But she is also not "just" herself, she is rather an ode to painting and literature. One hardly thinks about advertising here, rather about the photo as a painting, about a transition from photography to art history and literature.
More ART, more MELANCHOLY
KUNST HAUS WIEN shows: Elfie Semotan also takes on other painting. A painting that has only nostalgia and melancholy in common with the Pre-Raphaelites and not much more: we are talking about the art of LUCIEN FREUD. His portraits, dipped deeply in beige tones, mercilessly realistic and often melancholic, were created in the past decades and have meanwhile achieved cult status also because of their skewed PERSPECTIVES and peculiar angles of view. Just think of the portraits of Kate Moss or Queen Elisabeth.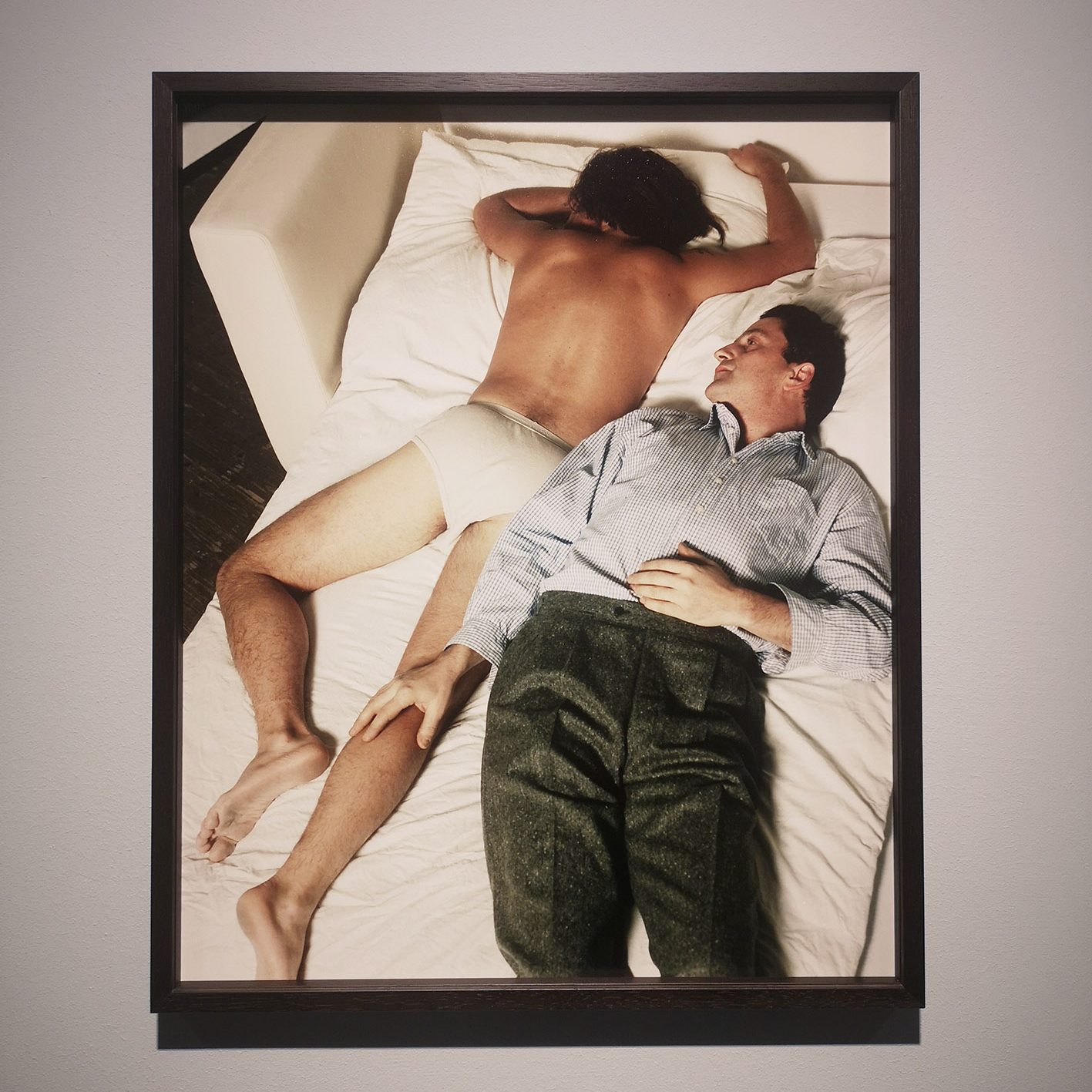 Equally LETHARGIC, EMOTIONAL and perspectivally DISTORTED are the two depicted persons in Elfie Semotan's photograph in KUNST HAUS WIEN. A couple, familiar with each other, lies on the bed, whereby one man seems to be sleeping in his underwear, while another man has thoughtfully lain down and gently touches the leg of the sleeping person. The painting is entirely in the shades of Lucien Freud. The colors vary between white, beige, green-gray and blue – also clearly reminiscent of Freud's palette.
Cult & Cinema: ODE & QUOTE
However, not only painting but also FILM AND CULTURAL HISTORY are inspirations for Elfie Semotan, as can be seen at KUNST HAUS WIEN. This is shown, for example, in the photographs with model Natalia Vodianova, which quote the film Bad Seed and John Waters. Her frightened, sometimes frozen or even disgusted faces seem to come directly from the 1956 film.
And Peggy Guggenheim also appears with Elfie Semotan at KUNST HAUS – without appearing herself. But the eye-catching, garish green glasses paired with a glamorously eccentric outfit, tousled, short hairstyle, and lovingly embraced dog speak volumes about the eccentric Guggenheim's iconic look. Fashion photography here is ODE AND QUOTE. And once again, truly more than brute advertising. Photography here dares to enter the realm of CULT & CULTURAL HISTORY and once again crosses the boundary often assigned to it in the 90s & 00s.
And Elfie Semotan does not stop at her fellow photographers: Diane Arbus' motifs are cited, as are Robert Frank's photographs.
After an initial stint as a fashion photographer, Diane Arbus made a name for herself as a reportage photographer in the 1960s. At that time, her photography took on a socially critical focus: she photographed the homeless, socially disadvantaged people, prostitutes, nudists, circus performers and trans* people. The world-famous photo "A Young Man in Curlers at Home on West 20th Street" (N.Y.C. 1966) by Arbus was Semotan's direct inspiration for her photo, which has no title but very much the description "inspired by Diane Arbus".
Robert Frank's Americana has also taken a fancy to Elfie Semotan: she stretches a huge American flag over an at least Austrian, probably even Viennese, apartment building façade. The models are also from New York rather than Vienna. Semotan skillfully quotes Robert Frank's American nostalgia and visual language and brings them to life in the middle of Austria and Vienna.
In these two examples, too, Elfie Semotan brings another world (in this case an important chapter in the history of photography) into the world of fashion photography at KUNST HAUS WIEN and elegantly merges the two. Her fashion photography thus exposes her to a permanent transition into another world. And let's be honest: this glamorous transition is very good for FASHION PHOTOGRAPHY.
Elfie Semotan's photography is not just advertising, not just a reflection of personality, but a cultural-historical, art-historical or even social-critical CITATION. And takes her important PLACE in the middle of these areas.
All that remains is to say: Off to KUNST HAUS WIEN! Neither Elfie Semotan nor the museum will disappoint you.